Help sponsor free yoga classes in San Antonio ~ All year-long!
SAVE THE DATE:  June 13th -21st 2020
In honor of the 6th Annual International Day of Yoga, we are organizing more than 200 FREE yoga classes and events in all parts of San Antonio. Join us for Yoga Wee 2020.
Help us make this dream a reality and share yoga with everyone in our great city.  We rely on sponsors and community leaders, in order to provide our community with these free events.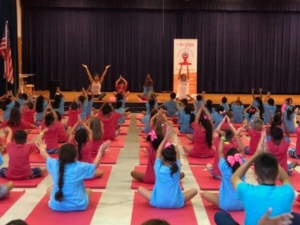 For 2020, the theme is 'Yoga in Education', in honor of all our dedicated educators and support staff.
All classes will present ways to:
reduce stress,
help relieve chronic pain and
incorporate healthy lifestyle practices.
Students will also learn what is yoga and about the latest science and research on the benefits of yoga.
All proceeds from this event will go to fund yoga classes through the year for underserved communities and for school sponsored yoga programs.
iDoYogaSA is a community project of Sewa Int., a 501(c)(3) non-profit organization.
Every dollar goes to provide these free classes year-round ~ please donate in any amount. As an example of how your donations will be put to use:
Donate $10 ~ one yoga mat donated to a local school
Donate $25 ~ help support one yoga class at a library or community center
Donate $50 ~ help sponsor a yoga class for a classroom at a local school
Donate $75 ~
Donate $100 ~ help sponsor two yoga classes at a local school and get your name added here on our Donor's page!